18.000 km For climate
The Climate Route was born from the idea of raising public awareness on the climate crisis and in particular wants to focus attention on what is happening in the Arctic region.
Watch the video presentation of the project
Volunteers and supporters
DAYS TO THE DEPARTURE OF THE EXPEDITION
The Climate Route Team is made up of volunteers who, aware of the effects of climate change, have decided to join together to raise awareness and bring the largest possible audience closer to the knowledge of the effects of the climate crisis we are experiencing.
Our Mission
The project aims to bring the public closer to the effects of climate change through a land expedition that collects the greatest number of testimonies, in order to incentivize the public to understand the extent and complexity of the climate challenge and request more efficient action towards environmental protection and the fight against climate change.
The recent global mobilizations are raising awareness about the climate emergency. As the challenge gets more complex day by day, we need to act now because the point of no return for our planet is approaching.
Our vision
The Climate Route wants to build a world where inter- and intra-generational climate justice is guaranteed through the respect and protection of all vulnerable populations and ecosystems. It is fundamental to rediscover a harmonious balance between human beings and nature, in view of eliminating inequalities, promoting peace, and preserving diversity.
No Results Found
The page you requested could not be found. Try refining your search, or use the navigation above to locate the post.
An "on the road" trip that allows a group of activists to leave Italy and arrive on the Bering Strait to meet local populations and document the damage caused by climate change: 18,000 km for the climate through deserts and glaciers of Eurasia.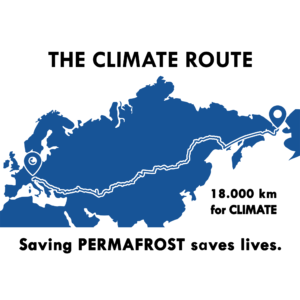 Talking about Climate Change …
We do not inherit the land from our ancestors, but we borrow it from our children.
Climate change is real. The challenge is thrilling. And the longer we wait, the harder it will be to fix the problem.
Every traveler finds in the world what he has in his heart.
I think having land and not ruining it is the most beautiful art form you could ever want.
YOUR contribution is important
COLLABORATE WITH US
Do you want to be part of The Climate Route Team and actively contribute to the project? Become a volunteer and help us organize the expedition!
MAKE A DONATION
Would you like to help raise awareness of the effects of the environmental crisis? Support The Climate Route with a donation!